Triple-S Salud: Health Plans for Individuals, Families, Couples, and Students

Salus Clinics
A network of clinics designed to make your health care easier, with primary care physicians, specialists, dentists, laboratory and imaging center.

TeleConsulta MD
TeleConsulta MD lets you talk with a doctor online. You can use it 7 days a week, through your smartphone or computer.
Triple-S en casa
Your medicines at your door. Order and purchase your prescription and OTC products through the app and have them delivered at no additional cost.

Total Wellness
Programs to educate and help you manage your health. We want you to enjoy life more.
Learn more so you can steer clear of other health problems that may affect you.

Triple-S Salud App
Now Triple-S is as close to you as your smartphone. Use our app to send your ID card to your doctor. You can also get health services, pay your plan, find doctors, and reach us through our mobile app.

Triple-S Natural
Get massage therapy, medical acupuncture, reflexology, aromatherapy, and other services through a merged drug program approved by the US National Institutes of Health.
---
---
---
---
---
---
Hospital
Semi-private room, 365 days.
Hospital stays for mental health and drug use issues.
Skilled Nursing Facility (SNF).
Inpatient medical-surgical
Medical visits, consultations and diagnostics for hospitalized patients.
Skin, bone, and corneal transplants.
Surgery and anesthesia.
Lithotripsy procedure (ESWL).
Invasive cardiovascular tests and gastrointestinal endoscopies.
Outpatient medical
All visits to family doctors, specialists, subspecialists, and health care providers you want.
Nutritionist visits, up to six per contract year.
Clinical labs and X-rays.
Outpatient surgeries.
Health care at home.
Urgent care and emergency services.
Ground ambulance for up to $80 per case.
Preventive services, like immunizations, as stated by federal law.
Services in the US
The Blue Card program covers emergency care and services pre-approved by Triple-S Salud. You must pay the respective coinsurance in the US. This will depend on the coverage you choose.
Drug coverage
We cover a $5 copay for preferred generic drugs. We also cover a 5-tier copay structure.
Dental
We cover 100% of dental for diagnostic and preventive services.
Full basic exam.
Common routine exams.
Radiographs.
Dental cleaning (prophylaxis).
(Topical) application of fluoride varnish. This depends on the member's age and health.
More services
Triple-S Natural:
Enjoy the rewards of alternate therapy. For instance, acupuncture, aromatherapy and naturopathic services, among others. Up to six visits.
TeleConsulta MD:
TeleConsulta MD lets you talk with a doctor online. You can use it 7 days a week, through your smartphone or computer.
Eyeglasses:
One pair per contract year for members up to 21 years old. Up to $50 for eyeglasses or contact lenses for adults.
Maternity:
With pre and post-natal care.
Specialized diagnostic tests:
MRI, PET CT and PET Scan, sonograms, and others.
Durable medical equipment
Choose the ideal plan for you!
We offer two plans to choose from based on your needs. Both have benefits like pharmacy, dental, vision, laboratories, X-rays, hospitalization, emergency, and more.
Triple-S Directo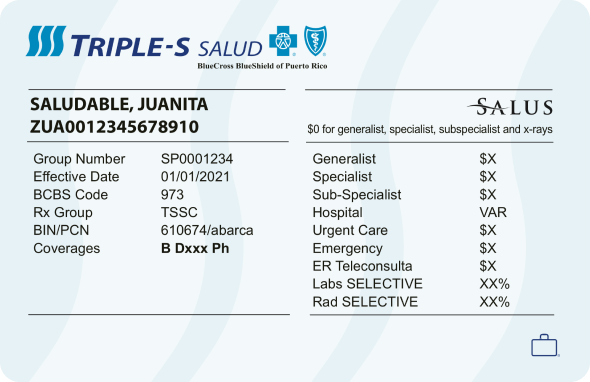 Four (4) free choice plans:
Bronze
Silver 2
Silver 1
Gold
They all cover the same health services. They vary in the percentage of medical costs that we will cover. The higher the metal category, the higher the percentage of medical costs we will pay, and the lower your copayments, coinsurances, and deductibles will be.
Triple-S Pocket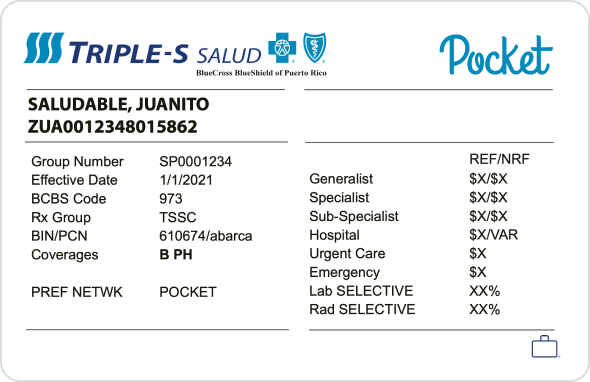 It offers two ways to get your health services:
Choice 1: A primary doctor from the Pocket network will organize your healthcare. Primary doctors are general practitioners, family physicians, pediatricians, gynecologists, and internists. After a doctor visit, they will direct you to specialists from your preferred network. This will let you get specialized care with lower copayments and coinsurances.
Choice 2: You may get care from the normal Triple-S Salud network, with higher copayments and coinsurances.
You will also be able to go to urgent care centers, emergency rooms, and hospitals.